"It's an okay story, but not good enough for the Authors' Faire."

This article is missing a few sections, or some images need to be added to uphold to the standards of this wiki. Please do anything you can to help out.
Amelia's Notebooks has several miscellaneous products, such as clothing items. Not much is known about these products, since they are rare to come by. Once enough information about the item is gathered it may be granted full page status.
All of these products were released by American Girl sometime during 1999 to 2003 at the latest. Since American Girl is primarily a doll company this may explain the large volume of various products that neither Tricycle Press or Simon & Schuster has ever released.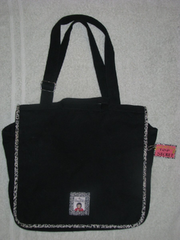 "If your name and address isn't -blank- KEEP OUT!"
—The nametag on the bag
The Amelia messenger bag is solid black with composition notebook trim. In the center of it is a small tag that reads "by Amelia" with a picture of her underneath. There is also a "Top Secret" tag attached to the bag. When opened up there is some room for school supplies, including slots for perncils. The straps can also be adjusted into a backpack style.
Like the Amelia book bag the cap is solid black, and features a tag in the middle with Amelia that also says "by Amelia."
"I can't wait to write about it in my notebook"
—Amelia's comment on the shirt
Not to be confused with the Amelia T-Shirt, is a solide write t-shirt with black trim. A small notebook is pictured in the center along with Amelia. It also says "by Amelia".
A distressed blue jean jacket, inside the fabric has a composition notebook pattern like many Amelia products. There is also an attached tag with a tiny sewn Amelia that says "by Amelia."
A nineteen-page scrapbook, many pages feature frames or borders. This product is especially rare to come by and not much else is known about it.

So far three pin designs are known, all three feature Amelia on them. One is of Amelia from the cover of Amelia's Notebook, the other from My Notebook (with help from Amelia), and the last was often used by American Girl in Amelia products.
This item is extremely rare to come by. It is a wooden framed magnetic board that comes with twelve magnets. Amelia is featured on the board with a composition notebook pattern.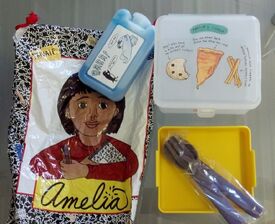 "Hey! Who took a bite out of my cookie? CLEO!!"
—Amelia's comment on her lunch
There are two Amelia lunchboxes, one is a clear plastic box, titled "Amelia's Lunch". A cookie, pizza, and carrots are pictured on top of it with comments by Amelia. Included are a yellow sandwich tray, an ice pack titled "Brrr!", and a plastic spoon and fork.
The other lunchbox is made of a collapsible plastic material. It is covered by the composition notebook pattern, Amelia drawings, and stamps. A tag, "by Amelia" is also included.
Community content is available under
CC-BY-SA
unless otherwise noted.