Amelia T-Shirt
General information
Author
Marissa Moss
Illustrator
Marissa Moss
Original title
Series
Publisher(s)
American Girl
Publication date
Pages
ISBN
1562478605
Book in series
[Source]
"Very private, top-secret notebook—BUG OFF, Cleo! No peeking!"
—Amelia's comment about her notebook
The Amelia T-Shirt was a limited edition shirt released by American Girl, sometime between 1999, and 2002. According to the packaging the t-shirt was $6.95 with the purchase of one of Amelia's Notebooks.
Description
Edit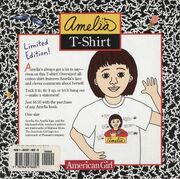 "Amelia's always got a lot to say—even on this T-shirt! Oversized all-cotton shirt features Amelia's face and clever comments about herself.
Tuck it in, tie it up, or let it hang out—make a statement!"
Shirt description
Edit
"Brain full of great ideas for stories and comics"
—Another Amelia comment
Features Amelia in the middle of the shirt, this image was often included with her logo when American Girl published the books. All around Amelia are comments she has made about herself, such as the dip under her nose, and her un-pierced ears. Most of the comments can be read in Amelia Writes Again. She is also pictured with one of her notebooks, pencils and markers.
Character appearances
Edit