Amelia's Moving Pictures
General information
Directed by
Marija Miletic Dial
Executive producer(s)
Rob Hudnut
Judy Woodburn
Marissa Moss
Character design by
Marissa Moss
Storyboard by
Marija Dial
Composed by
Gerald O'Brien
Distributed by
American Girl
ISBN
9781584851608
Release date
March 2001
Running time
30 min.
[Source]
Amelia's Moving Pictures is a short animated movie starring Amelia. It was based on Amelia's Notebook, but also focuses on events prior. The movie was released by American Girl on home video sometime in March 2001.
It is available for free to watch on Youtube, Marissa Moss's website, and Amelia's Reading Club. A preview of the movie was once available on Amelia's Desktop.
"I woke up and I remembered what day it really was. Moving day."
—Amelia when she woke up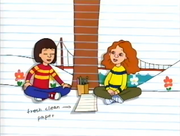 Amelia introduces herself and describes the wonderful dream she was having just before waking up. She pictures a bright sunny day, she and Nadia are planning a story. However, the day has finally came, moving day that is, and she seems to be the only one not willing to leave. Cleo, her sister is absolutely thrilled to be getting her own room in a whole new place.
Amelia and Cleo eat breakfast, while their mom asks Amelia if she has packed yet. Cleo thanks her mom for the address book she received, and Amelia tries to comprehend why her mother only gave Cleo a address book and Amelia a notebook. Later Amelia is sitting on the kitchen floor and still has not packed yet. Her mom asks her again, while she is cleaning and sorting out what to keep or throw away. In the midst, Amelia stops her throwing away a chipped cup Amelia had made her. Amelia becomes annoyed and starts writing in her notebook about it.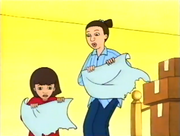 Amelia is in her and Cleo's shared room, when Cleo starts to take down a poster. The two argue about who is the rightful owner of the poster just before it rips. Cleo walks off and Amelia's best friend,
Nadia
comes over to help Amelia pack, and tries to cheer her up.
"Goodbye my room...okay Cleo's room too. It's still mine..."
—Amelia says goodbye
She and Nadia labeled all the boxes "Nucleur Waste" in hopes that the movers would not be able to move them. Nothing stopped them and Amelia tearfully says goodbye to her room and the various cracks in the walls. Lastly Amelia writes her name in the closet and leaves.
The road trip to the new house is long, and boring. Cleo often sings off-key, while chewing gum. The only brightside is when, they get off the road and into a hotel. Amelia writes a story about a ghost girl, who dies because her mom made her move and sends it to Nadia. They arrive at their new house, each sees the house differently, but Amelia is the only one who is not excited.
All three go into the house, and Cleo immediately calls dibs on her room. Amelia tries to call Nadia, but someone else answers and tells her Nadia is busy. Later that night, Amelia cannot sleep and goes to the living room. Amelia still has a hard time sleeping and begins a story, but never finishes it.
Amelia wakes up and is dreading starting the day at her
new school
. She begins looking for
Mr. Nudel's
room, and gets lost. Finally, she finds the room and feels nervous at first. The class gives her warm welcome, and she feels right at home. At recess, Amelia is drawing in her notebook, when
Leah
goes up to Amelia and introduces herself. Leah invites Amelia over to her house to play with Leah's watercolor paints.
Amelia walks home after school, and finds a package from Nadia waiting for her. Nadia calls just as Amelia starts to open the package. It is a new poster for the two to color, when Nadia comes to visit. Surprisingly, Cleo also bought Amelia a new poster to say sorry about the old one.
Now Amelia feels she might get use to living in Oopa. To end the night Amelia writes her name again in the closet of her new home.
Character appearances
Edit
Production
Edit
Director - Marija Miletic Dial
Executive Producers - Rob Hudnut, Judy Woodburn, and Marissa Moss
Executive Producer for Sky Productions - David J. Corbett
Associate Producer - Mecedes J. Sichon
Supervising Producer - Mary T. Corbett
Line Producer - Michael Crabtree
Character Design - Marissa Moss
Story Editor - Susan Amerikaner
Production Managers - Lynda Haynes, and Andrew Leith
Production Coordinator - Morghan Fortier
Production Auditor - Shelly Anderson
Storyboard - Marija Dial, and Marissa Moss
Storyboard Cleanup - Vince Peets
Model Artists - Marcello Wilmot, Pat Knight, Jennifer Duczmal, Alexey Linkov, Dale Desrochers, Kevin Macdonald, Fabiola Filetti, Ken Madden, Masha Gorbankirimi, Konstantin Nikov, Pamela Pagayonan, Nedenia Rocha, Jennifer Sherman, and Scott Mitchell
Background Layout Artists - Bill Buzadi, Kevin Macdonald, Dale Desrochers, Ken Madden, Stephanie Fortel, Jennifer Sherman, Pat Knight, Scott Mitchell, and Marissa Moss
Layout Supervisor - Richard Pimm
Color Background Keys - Sean Branigan, Ken Nicholls, Robert Herd, Andy Tougas, John Hill, Vesna Mostavac, and Kate Shepard
Color Styling - Kate Shepard
Ink and Paint Keys - Dave Campbell, Vesna Mostavac, Fabiola Filetti, Jyan Oki, and John Robinson
Animatic - Daryl Henwood
Final Checking - Junga Kim-Wolf
Composer - Gerald O'Brien
Production Assistant - Kathleen Reichelt
Track Reader - Laurie Wetzler
Casting Coordinator - Randi Riediger
Production Coordinator - Diana Gage
Voice Director - Karl Willems
Recordist - Michael Iske
Assistant Recordist - Timur Kalyuzhnyy
Dialogue Editor - Michael Iske
Overseas animation & production
Edit
Director - Nelson Shin
Animation Producer - Nelson Shin
Animation Quality Supervisor - Kil-Woong Kim
Production Manager - Dong-Seok Kim
Animators - Hye-Ran Lee, Sung-Hyun Chun, Kyung-Bo Nam, Yong-Bae Won, Hae-Kyung Park, Yong-Moon Kim, Yoon-Sung Lee, Byung-Chun Kim, Jae-Hoon Shim, and Sung-Mok Jung
Digital Ink & Paint Control - Mi-Kyung Park
Screenshots
Edit