Amelia's Desktop

General information
URL
[1]
Type
Books, games
Available languages
English
Current status
Inactive
[Source]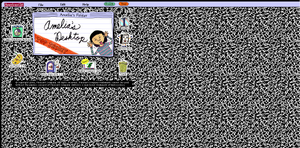 Amelia's Desktop is the previous website for Amelia's Notebooks hosted by American Girl. It was launched sometime before 2000, and became inaccessible in late 2005. The URL was previously located here, http://www.americangirl.com/amel/index.html, now an error message will appear.
It is fashioned as a desktop in which, the user can check out Amelia's emails, play games such as FaceMaker, and check out the Magic Wishing Machine. There were additional things available for download, like screen-savers.[1]

Atleast two quizzes are known. They were also featured in Amelia's School Survival Guide and Amelia Tells All.

Not much is known of this activity, but probably has something to do with Amelia Lends a Hand and her deaf friend, Enzo Rutelli.
Like Amelia Signs On, almost nothing is known of this game. However, it may have something to do with Amelia's School Survival Guide.
"She walks, she talks—and Cleo sings!"
—The website's tagline for it.

A preview of Amelia's Moving Pictures was available to watch. The whole video was never able for viewing on the website.
FaceMaker was once the most popular game on Amelia's Desktop, however there is little trace of it now. The user might have been able to make a variety of faces using Amelia's drawings.

Amelia's Words of Wisdom were different fortunes updated infrequently until early 2003, when they were no longer updated at all. Most of the fortunes were taken or inspired by Amelia Tells All.
"Satisfaction Not Guaranteed—especially if the answer is wrong! Hey, what do you expect from a washing machine anyway?"
—Amelia's warning

The game is similar to a magic eight ball. First ask the washing machine a question and it will give a simple response, like "Forget It!" or "I'm not getting a clear answer. Try another rinse cycle."

Like many of the other games there is almost no trace left of this game. Based on the game's icon, it can be assumed it has something to do with mail.
This game is most likely similar to the feature on Your Notebook (with help from Amelia), where you can type a paragraph and click a button to turn a few of the words into "Amelia" style.

Emails sent to Amelia from her Mom, Nadia, Mako, etc. and from Amelia to her other friends. Many have attachments to them. The emails were changed atleast once, sometime before October 2003.

Screensavers designed in "Amelia" fashion. One is titled "My Desktop" with a black-and-white composition notebook background. Others feature various drawings by Amelia.

Amelia's Address Book is a sort-of introduction to many of the characters that appear in Amelia's early notebooks. Many details including last names and addresses are revealed. Several of the pictures are taken from Amelia's Notebook, Amelia's Bully Survival Guide, and Amelia's Family Ties.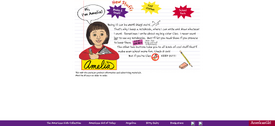 Amelia's notebooks were available to buy online through American Girl's website. Other things like clothes and "school stuff" were also there for purchase.
Community content is available under
CC-BY-SA
unless otherwise noted.